BEPS webinar series: tax reform overview
From June 16 to 19, Mazars Ukraine starts a series of meetings dedicated to the adoption of anti-BEPS Law (Law No 466-IX) in Ukraine . Meetings will be held daily from 17:00 to 18:00 online.
On May 23, 2020, after three years of discussions and expectations, Law 466-IX came into force, which significantly changes the "rules of the game" in Ukrainian taxation. Most of the changes came into force on May 23, 2020 and have been in force for several weeks.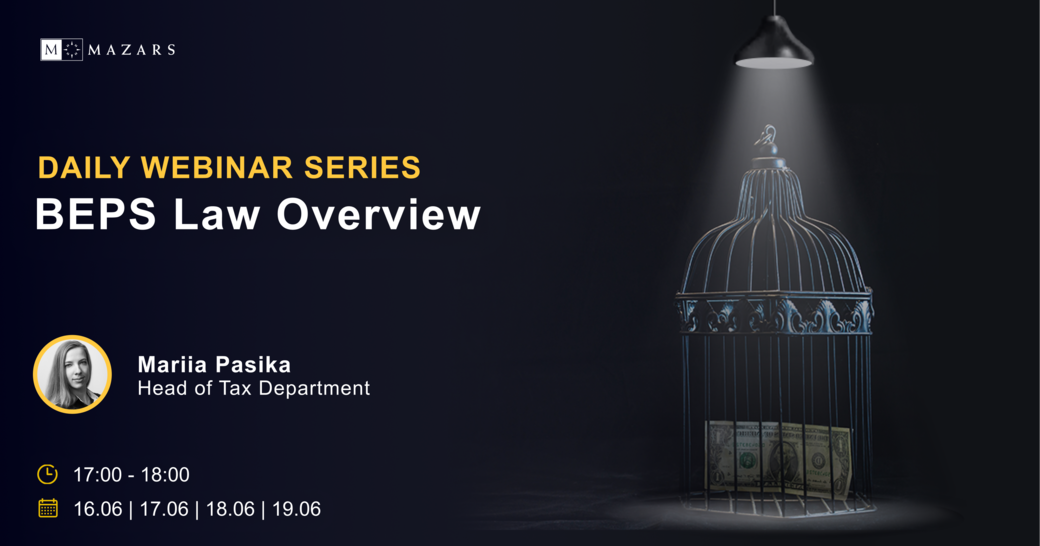 Our expert Mariia Pasika — Head tax department of Mazars — will tell you about the most important changes.
Let's talk about transfer pricing, income taxation of foreign companies, innovations in income tax and the application of tax treaties;
We'll discuss which business practices no longer work and which operations should be approached with caution;
We will provide answers to the most hot-topic questions.
Program of meetings (webinars):
June 16: Law 466-IX. Income tax and application of double tax treaties.
June 17: Transfer pricing 2020. Group reporting and updated rules.
June 18: Law 466-IX. Changes related to permanent establishments.
June 19: Law 466-IX. Taxation of controlled foreign companies.
Language: Russian
Join the discussion of tax reform!
* The number of participants is limited.
** To participate in the meetings, we will send a link to the connection. The one link — to all meetings 16.06-19.06.
If you did not take part in one of the meetings - take part in the following ones by following the link.